experience sit-down showering the way it should be!
Your shower should be amazing, everyday! Introducing the new standard, Aucuro's Dynamic Shower Holder
Buy Now
click here to Learn more
A REVOLUTION IN SIT-DOWN SHOWERING!
Are you tired of struggling to hold a hand-held shower head or being confined to a static shower holder that doesn't meet your needs? Introducing the Aucuro Dynamic Shower Holder, a revolutionary new product designed specifically for sit-down showering.

Our Patent Pending design allows you to experience the luxury of handsfree, full body showering while seated. The telescopic arm moves the hand-held shower head wherever you need it, so you can easily pivot or extend the shower head to reach those hard-to-reach spots.

Not only will our Dynamic Shower Holder make showering easier and more comfortable, it will also give you back the independence and autonomy you deserve in the bathroom. So why wait? Experience the relaxation and convenience of Aucuro's Dynamic Shower Holder today! Click the button below to buy now and start enjoying the benefits of handsfree showering.


Finely Crafted Walking Sticks - The Aucuro walking stick has been meticulously designed using only the finest materials and finishes combining traditional craftmanship with the latest manufacturing technology.
It features a hand-finished American Walnut handle and a unique hidden pin lock system with 8 levels of height adjustment. The shaft is constructed from advanced aircraft grade aluminium for ultimate strength and confidence. Aucuro stands out with our commitment to quality and craftsmanship.
Aucuro Dynamic Shower holder honoured to receive a prestigious Good Design award Gold!!!
The Good Design Awards Jury commented: "The jury was impressed by the depth of the research, and the resulting insights and solutions. This system significantly improves the autonomy and dignity of the primary users while successfully addressing the issues faced by carers. It looks great, is nicely detailed, and well resolved. The jurors applaud the design team for creating such a great product."
It was Great to meet everyone at the ATSA Tradeshow in Melbourne!
South Australian customers
The Aucuro Dynamic Shower Holder is on display and for sale at the brilliant new NovitaTech retail showroom! It has over 1,000 products, all designed to support people to live more independently.
Where: NovitaTech Store - 31Manton Street, Hindmarsh, Adelaide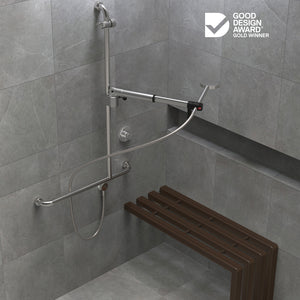 Limited time offer
Get your 30 DAY FREE TRIAL of the aucuro dynamic shower holder! NUMBERS ARE LIMITED SO BOOK NOW!
Don't miss this amazing opportunity to try out the Aucuro Dynamic Shower Holder for 30 days, completely free of charge! As an Occupational Therapist or Healthcare professional with a registered business, you can offer your clients the chance to test out this innovative product to make sure it meets their needs before they commit to purchasing.
There are limited spots available, so be sure to book your free trial now! With no down payment or credit card details required, and return postage included, this is a risk-free opportunity to see the benefits of the Aucuro Dynamic Shower Holder for yourself and your clients. Simply fill out the form provided to get started. Don't wait – sign up for your free trial today!
Sign Up